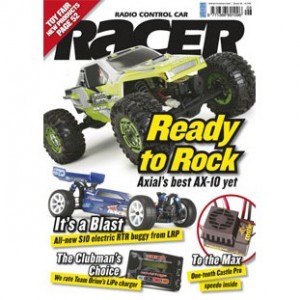 • Losi Adopts the Euro
We take a look at the new 2.0 EU buggy from Losi – a chassis designed our high-grip, high speed tracks.
• Kings of the Castle
At first glance, the Mamba Max Pro does not appear to be a competition-spec speed controller, but model that has a lot more functionality than first suggests.
• Exceeding Expectations
Not wanting to be blown away by the competition, our in-house Club Racer gets an upgrade to his short course truck from Fusion in the form of their Exceed Race brushless motor system.
• Club Classic
Club Racer has been busy this month testing Orion's Clubman LiPo charger and putting it through its paces.
• Axial AX-10 Scorpion RTC
Axial have released a new version of their AX-10 series rock crawler, this time we get a fully Ready-To-Run chassis with all the latest improvements available…
• LRP S10 Blast RTR
The entry-level RTR market has plenty of choice for budding 1:10 electric off-road racers. What does LRP's latest offering bring to the party?
• FTX Rampage RTR
Aimed clearly at the first time buyer or nitro newcomer, FTX's supersized 1:10 Rampage buggy appears to tick all the boxes that they could wish for.
• Levänen and Kerswell Take Titles
Hinckley in Leicestershire hosted the 2010 EFRA 1:12 European Championships and we had some British success to shout about.
• Back to Basics
Andy North checks out the BRCA venues for the 1:8 on-road Nationals well as the basic set-up of a Centax clutch.
• Teil Zwei
Another eight pages of awesome RC kits and products to pore over from our second and final Nuremberg Toy Fair instalment.
• Xray Column
Juraj Hudy reports in from another busy month and brings our readers up to date with what's happening at Team Xray.
• LRP Column
After a busy week at Nuremberg, Jurgen reflects on a successful time and the release of their new 1:10 electric 4WD RTR buggy, the LRP S10 Blast BX.
• Carson E-Stormracer Extreme Brushless
The E-Stormracer goes Extreme with their new brushless model as we put the 4WD buggy to the test at a local club to see how it performed against much more expensive competition.
• Safe-Store
Hauling your RC equipment safely is the name of the game with Hudy's 1:10 Touring Carrying Bag.
• HPI Trophy 4.6 Truggy
Following on from the success of the HPI Trophy buggy comes the more powerful, 4.6cc equipped truggy version.