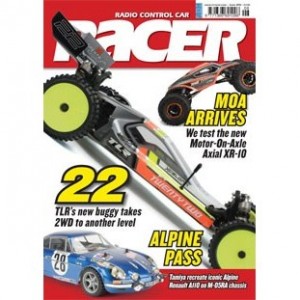 • Farrell Takes Title for CRC
Mick Farrell wrapped up the Sports Modified Championship at Stocksbridge as the Stock and Open Modified races sees wins for Elliott Harper and Chris Kerswell.
• Tamiya M-05RA Alpine Renault
The RA version of the popular M-05 chassis is a dedicated platform for the rally market. Adorned with a stunning Alpine body with all the eye catching bolt-on details like driving lights and bumpers, we hit the rough stuff with this replica of the Renault-powered machine.
• Xray 808E
Racer got their hands on the new 808E from Xray that offers stunning performance from an electric set-up of Castle Creations and Team Orion combo. Using their vast experience of the nitro off-road scene, the 808E takes it all in to offer proven handling, with the instantaneous power of a high torque electric motor.
• HPI Switch
Offering a cheap and user-friendly introduction into RC, this front-wheel-drive moulded chassis is topped off with a detailed replica Fiat 500 body ensuring that the Switch appeal whether in action or waiting for another battery to be charged. Supplied in kit form, the simple two-wheel-drive design ensures the owner gets a great insight into RC from the moment the box is opened.
• LRP Column
Jurgen Lautenbach previews the LRP Touring Car Masters event as well as rounding up some of the latest LRP releases from the Nuremberg Toy Fair.
• Lee Martin Diary
Tamiya Racing Factory driver Lee Martin travels to the USA once again and this time the Cactus Classic in Arizona where he pits himself against many of the Worlds best off-road racers.
• TLR 22
Team Losi Racing releases their first kit with the 22 2WD buggy. With unique features like the rear and mid-motor build option and features such as an alloy chassis, big bore shocks and steering rack system, its no surprise that this buggy has sent the racing world alight with interest.
• McGee and Stafford Win at BWOC
The second hosting of the BRCA British Winter Open Championships took place at Hereford as Schumacher and Kyosho shared the victories.
• Schumacher Mi4CX
The Mi4CX is basically a celebratory kit using the parts that BRCA National Champion Chris Grainger used on his car to once again take the modified title in the British series. There was little doubt that its predecessor, the Mi4LP was good but the CX takes it to another level.
• Axial XR-10
MOA is what it is all about with the latest addition to the Axial rock crawler line-up. With a Motor On Axle set-up, the new XR-10 rewards the driver with greater flexibility on route choice and offers a lower centre of gravity. We handed the XR-10 over to our experienced team of crawling experts to find out all about the first MOA chassis to be reviewed and what it is capable of.