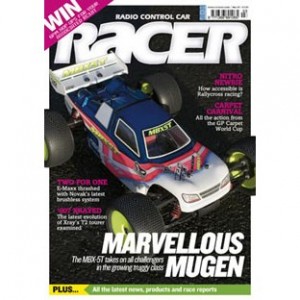 • It's New and it's Nitro
The latest column from Juraj Hudy at Team Xray.
• Changing Tack
How a newbie nitro racer got on at his first meeting.
• Small Competition
Win big with our 1:18 competition courtesy of RC Model Imports and GPM.
• Schumacher at Snetterton
Darren dominates round the market venue.
• When One is Better than Two
We get rid of the two E-Maxx motors and install a big brushless one from Novak.
• Christmas Cracker
The Neo Invitational came to the UK and what a great meeting it was.
• Quantum Competition – the Sequel
The story behind the development of the Quantum Competition 2.
• Top Trumps
How does our selection of racers fare against each other?
• Track Guide
Check out our nationwide listing of clubs.
• Essex Action
EMORC hosted the latest round of the BRCA Rallycross National that was dominated by Jon Hazlewood.
• Debutant Takes Win
To say Xray's new signing enjoyed his first major event would be an understatement.
• Young Guns Do Battle
All the news from the annual Juniors off-road event held at Stotfold.
• Cutting It Fine
Cobra offer a range of specialist equipment as we test their tyre truer and commutator lathe.
• Marcus Heads for the Sun
With a classy display at Southend, Marcus Askell booked his ticket to the Tamiya World Finals in Japan.
• New Track, New Winners
Olly Jefferies and Mark Stiles took their first BRCA national wins at the Cotswolds venue.
• Mugen MBX-5T
We find out if Mugen's standard spec truggy has the potential to win.
• Xray T2'007
The '007 version of the T2 platform incorporates all the latest updates to be found. What to know more? Then read on.
• Team Losi Muggy
Neither monster truck nor buggy, we find out what the Muggy has to offer. Is it a racer or a basher though?