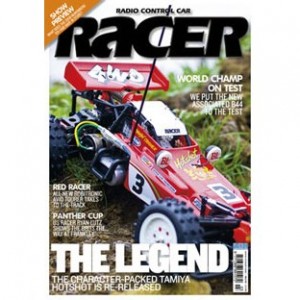 • Robitronic Avid
Red is always considered a racey colour and it's no wonder why Robitronic have chosen it for the Avid TC, a top of the range competition touring car.
• HPI MT2 SS+
The kit version of the latest MT2 is packed with parts off the options list as our tester hits Wales and gives it a good thrashing!
• Tamiya Hotshot
As the legend returns, we find out what the re-released Tamiya has to offer.
• Losi Mini-LST2
With its upgraded drivetrain and 2.4GHz radio, the new Mini-LST2 has more to offer than first meets the eye.
• Associated B44 FT
The World Championship winning car is here and reviewed in depth.
• Nuremberg Show Preview
What does the 2008 toy fair have in store?
• Dreaming of RC
We interview rallycross racer and JQ Products co-owner Joseph Quagraine.
• Airfield Antics
Jimmy Maddison, Gary Dyson and Olly Jefferies and flies to BTCC Kemble wins.
• Racer Diaries
Part six sees us looking to fine tune the front-end grip to match our newly found stability.
• LRP Column
This month see Jurgen joined by TC Euro Champ, Ronald Voelker.
• Crawling at Fifty Five
Our new contributor Tom Stacey takes a look at the Novak 55 crawler motor.
• Lutz Conquers Frankley
The inaugural Panther Cup saw a win for US star Ryan Lutz.
• Stan's the Man
Read how Mark Stanley dominated this years BRCA F3/4/5 Off-Road Finals at Coventry.
• Werk'ed Over
We take a look at the TL 21 B7 Pro engine from Werks Racing.