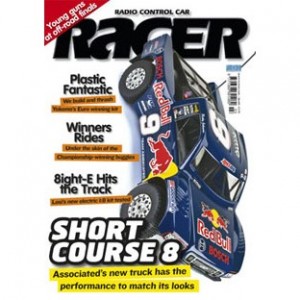 • Hot Stuff
LRP's all-new Soldering Station tested.
• HPI E-Firestorm 10T Flux
The new E-Firestorm comes equipped with a brushless system and ready for LiPo and the 10T Flux offers huge power based around HPI's very impressive chassis and design.
• Yokomo B-MAX4 Champions Pack
The new Yokomo 4WD is in demand after an amazing debut for it in Europe. Despite its looks, the B-MAX4 has the performance to win and we certainly enjoyed our track test.
• Tamiya TB-03 ARTA Garaiya
We build the new TB-03 chassis complete with IFS front end and GT racer body that offers TRF appeal without the price.
• Associated SC8
The Short Course 8 from Associated is their first CORR replica and aims to allow for some door handle to door handle racing at your local track.
• Xray Column
Juraj Hudy summarises his year and outlines some ideas for the future.
• Best of British
The young and old clash at the British Regional Championships that took place at Eastrax.
• Electric 8ight On Test
Racer puts the electric powered Losi through its paces.
• Elliot Joins the Crewe
On-road superstar Harper in fine form as the 1:12 Nationals headed to Cheshire.
• Champ Cars
We review the 2WD and 4WD British Championship-winning cars of Ellis Stafford and Lee Martin.
• LRP Column
New developments from LRP with their competition batteries and sport chargers.
• Traxxas Slayer
Racer was fortunate enough to get their hands on the only 4WD nitro Slayer – a short course CORR racer from Traxxas with a stunning bodyshell and replica look.
• Hot Bodies Cyclone 12X
The 1:12-scale Cyclone gets a makeover with new parts and redesigned components that should ensure it remains a winner.