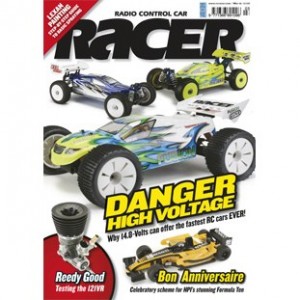 •Step-By-Step Painting
Get the perfect paint job by following our easy to use guide to painting a simple colour scheme on a lexan body.
•Losi Mini-Desert RTRs
The 1:18 scale RTR Mini-T series from Losi takes yet another twist with this latest pair of Mini-Desert Racers. Racer gives you the low-down on these latest evolutionary offerings from the Californian mini-meisters.
•Axial SCX-10
The latest chassis from rock crawling experts Axial takes the road less travelled. With an American pick-up style CF-100 Kustom body, this model is as much about the look as its crawling ability.
•Tamiya DF-03 RA
Tamiya has a reputation for building great looking RC scale model cars and with its buggy-based chassis, their Subaru Impreza WRC 2008 rally car not only looks great, but also it handles off-road too.
•LiPo Hits the Spot
It was a weekend of firsts at round two of the BRCA 1:12 Nationals with Olly Jefferies using the latest 1S LiPo battery packs taking the win in modified.
•LRP Column
The company from Germany looks to Greece for inspiration with their new motor range as development in this area continues at high speed.
•HPI Formula Ten
Radio controlled Formula One cars seem to be all the rage again, here is HPI Racing's new offering, the Formula Ten complete with highly detailed lexan body and clever design features.
•Connor and Greg's Junior Domination
The annual BRCA 1:10 Off-Road Juniors event is an opportunity for the younger drivers to star on the big stage as the 'oldies' take to the track too. Meanwhile, there is hotly contested BRCs for the best Regional-graded drivers of the year.
•Reedy Good
Racer takes the new Reedy 121VR nitro engine to the track in our Associated RC8B buggy with an interesting back-to-back test.
•Xray Column
With the New Year well under way, Juraj checks out his packed calendar for the racing season and all the major races that Xray will attend in 2011.
•Willetts In-Junction
Kyosho driver Simon Willetts took a deserved win at the penultimate round of the 2009 BRCA National series as he dominated the meeting at Junction 12.
•BSD Racing Land Ripper RTR
We let it rip with the new Land Ripper from BSD Racing. Sold as an RTR through Amerang, the buggy comes with LiPos included to offer a powerful brushless package.
•Caster Fusion F8T RTR
New distributors Answer-RC sent us this Ready-To-Run kit from US manufacturer Caster to have a go with. With a massive spec and solid underpinnings, could it be a debut hit?.
•LRP S8 BXe
Using the S8 BX Team buggy as its basis, the new S8 BXe features electric power and a neat design. Equipped with a pair of 7.4V LiPo packs, the BXe is an impressive looking machine.