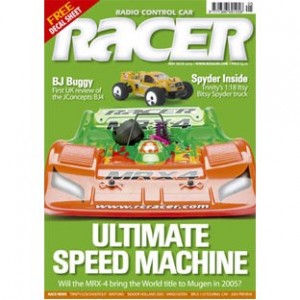 • Off-Road Concepts – Racer takes a look at the JConcepts BJ4 electric buggy.
• Itsy Bitsy, Teeny Weenie – Trinity join the 1:18 mini truck race with their Itsy Bitsy Spyder.
• Ride the Lightning – The Pro version of the Lightning Stadium gets a sound thrashing.
• Show Stoppers – All the latest news and products from the Nuremberg Toy Fair.
• Mugen's Tamac Terror – Racer gives you the low down on Mugen's latest 1:8 circuit racer, the MRX-4.
• Pick a Winner – Check out who's doing what and where with our BRCA National Touring Car preview.
• Olly Doubles Up – Top racer Olly Jefferies took two wins when the Schumacher BTCC visited Ashby.
• Grainger the Shootout King – We report on the action from the two-day Trinity/Losi Shootout at DMS Racing in Watford.
• Euro Tamiya Title Winners – See who won the trips to Japan in the Tamiya Euro Finals from Holland.
• Carpet Crusader – Pete Winton checks out the latest carpet racer from Team Associated, the RC12L4.
• Jackson's Dutch Triumph – A large British contingent went to the Indoor Holland rallycross meeting resulting in a win for Karl Jackson and Mugen.
• Crono-graphic Precision – Racer reviews the latest ride that multiple national rallycross champion, David Crompton will be gunning for glory with in 2005.