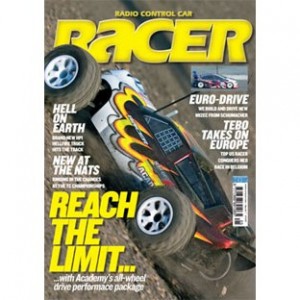 • The Next Step – Lets Go Racing.
• Carson Comanche – Large-scale two-stroke fun with Carson's new truck.
• Academy RT4-GP – Tenth-scale nitro powered stadium.
• Astro-Turf Wars – Essex Monster Off-Road Club hosted the latest round of the rallycross National series.
• Touring Car Preview – Neil Mead reviews all the changes to the rules, cars, teams and more.
• Traction Action – How LRP developed their Traction Control system.
• Jared in Charge – Kyosho racer Jared Tebo wins Neo Invitational race.
• Savage Insight – Inside the new Savage X.
• Double Joy for OJ – Matt Osland-Jones was unbeatable at the BRCA F3/4/5 Finals.
• Moore Completes the Job – Andy Moore and Russell Williams share the spoils of the Shootout.
• Schumacher Mi2EC – We build and run the replica of Teemu Leino's 2005 Euro winning machine.
• HPI Hellfire – Racer takes HPI's all-new race truck for a god thrashing.