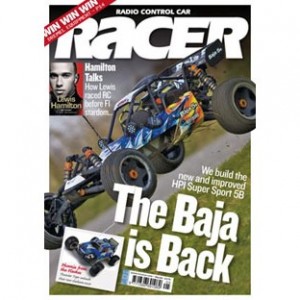 • Racer Competition
Win a Dremel 300 Series package by answering a simple question.
• Steer with the Rear
Make your Axial AX10 more agile with the optional rear wheel steer kit.
• Body Beautiful
Does a new body make you faster? We find out as we eye up the finishing lline of our Racer Diaries…
• Lewis Hamilton Talks
Extracted straight from his best selling book, find out what Lewis got up to before he became an F1 star.
• LRP's Pulsating Charge
What makes the Pulsar Competition 3 one of the most
popular chargers on the market?
• Track Directory
Part two of our detailed track guide.
• Hong Nor CRT.5
Don't be decieved by the .5 as this model is no half-hearted kit. With great handling and high-performance, the HN kit deserves full marks.
• XTM Rage RTR
As the latest newcomer to the small-scale market, XTM's new 4WD monster truck is RTR for a small price.
• Traxxas Stampede VXL
Claiming top speed figures of 65mph, the brushless powered Stampede demands your attention. And we were not disappointed with the results when we installed a LiPo battery and hit the park!
• HPI Baja 5B SS
More power and an improved spec are key selling points of the new Super Sport version of the Baja but as it comes in kit form, you get to build up this awesome piece of RC kit too. And then when the 26cc engine is fired up, stand back and wait for the exhaust note to blow you away!
• Tamiya Avante Mk II
Like so many of Tamiya's early kits, the Avante is steeped in history. Although the Mk II is now here, Tamiya have not re-released it but instead have come up with a brand new design.
• Thunder Tiger Phoenix GT
Ready to run for under £170, the Phoenix certainly won't burn a hole in your wallet with plenty of power on offer.
• Losi 8ight RTR
Based on the 8ight rolling chassis, this version comes factory built complete with Spektrum radio and a powerful Mach 427 engine. Wth the 8ight RTR being the centre of a new series of articles, we thought we would begin with a detailed review.
• Robitronic Scalpel
With its razor-sharp handling and ability to be run in a small hall, the 1:18 Scalpel looks like a winner with its high-spec and attention to detail. Find out what makes Robitronic's new micro racer a stunner on the track.