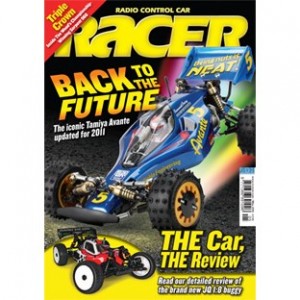 Features
Short Course Set-Up – With SC rules allowing the use of 550-size motors in 4WD short course, we take a look at Novak's Havok Pro/Ballistic electronic SC set-up.
Serpent Success – After winning the BRCA National Championship three times in a row, we had to find out more about Tim Wood's Serpent 966 and the man behind the sticks.
Nuremberg Revisited – More pictures and info in the second of our two-part review from the 2011 Nuremberg Toy Fair.
Martin Reaches International Milestone – In the latest excerpt, we find our how Lee got on at the 2011 Nitro Challenge as well as other developments for the British, double European Champion.
LRP Column – The S10 platform is the basis for the new LRP Blast Monster Truck and Touring Car, whilst Jurgen reflects on the success of his team at the DHI Cup.
Xray Column – The annual Nuremberg Toy Fair was a chance for Juraj to show off the new RX8 for the first time to the visitors as well as a chance to assess the current position of the industry.
Opportunity Knocks – With Elliott Harper not present at Plymouth, it was an opportunity for others to shine at the latest round of the 1:12 National series.
Willetts' Ride – One of the latest additions to the Mugen Seiki race team is Simon Willetts and shortly after penning the deal with MSE, his Mugen MBX-6 arrived at the Racer offices with the latest equipment from nVision and ProCircuit.
Reviews
Losi 810 The new 810 from Losi looks like another buggy, but with a lightweight set-up and 3.4cc engine, it offers fantastic power to weight…
HPI Cup Racer – Scale realism and a competition inspired chassis! It all seems too good to be true. Racer lifts the lid on the HPI Cup Racer to see if it all adds up to the perfect ten.
JQ Products THE Car – After many years of had work designing and looking for a manufacturer to produce his own car, Joseph Quagraine has finally achieved his goal with THE Car. With his own thinking on key areas and much hype surrounding testing and its release, Racer gets an in-depth look at JQ's first 1:8 buggy.
Tamiya Avante 2011 – There are few RC cars that can claim such legendary status as the 1988 Tamiya Avante. A technical marvel, yet also stunningly beautiful, but can it really be back?
Associated B44.1 FT – The B44.1 has not just had a make over in the looks department as upon closer inspection, there are many small, but not insignificant changes made to the Associated 4WD platform.
Traxxas Ken Block Gymkhana – What happens when you cross one of motorsport's most extrovert and colourful stars with one of RC's most innovative companies? The answer is a Ken Block replica that almost fits in your pocket.