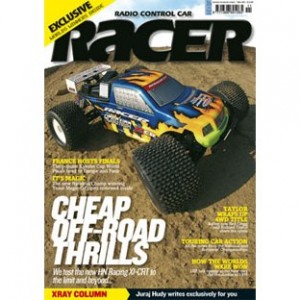 • Xray Insight
The first of Juraj Hudy's exclusive monthly columns.
• To the Max…
What happened at the first-ever Max Model Show at Wroughton.
• Moore's the Man
Andy Moore's awesome year continued at the European
Championships with another clean sweep.
• Serpent One-Two
Gareth Bell led home a one-two for Serpent at Tibshelf.
• How the Worlds Were won
Jurgen Lautenbach looks back on how LRP won their first World title.
• It's Teemu time
History was made as Craig Drescher's brushless system took TQ but it was Teemu Leino who
won at Snetterton.
• French Fancy
Kyosho's World Cup Finals were held this year in Paris and Racer was there to see it all happen.
• Championship Wrapped Up
Richard Taylor took the 4WD title at Batley as Neil Cragg returned to winning form in his challenge for 2WD honours.
• Hazlewood Great at Yarmouth
A tough track in East Anglia saw Karl Jackson take TQ but it was championship challenger Jon Hazlewood
and his Xray that won the important A final.
• Worlds Winners
Racer got hold of both World Championship winners from Italy for a thorough going over.
• HN Racing X1-CRT RTR
This month's cover model is the excellent X1-CRT truggy in RTR guise.
• Team Magic G4S
A championship winner in the hands of Darren Johnson, Michael Walton builds the latest Team Magic nitro on-road racer.
• Team Losi XXX-CR
Competition Ready is the title given to Losi's new 2WD racer as we raced our sample at the Oswestry round of
the National series.
• Schumacher Rascal RTR
We have waited a long time for the Rascal to reach production but it was definitely worth it.