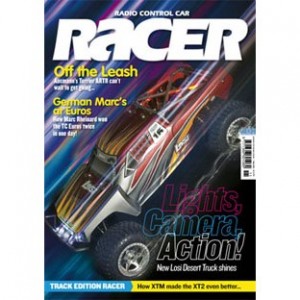 • Micro Machine
We think that the new Blade mCX from E-flite is the best helicopter for first time flyers so we gave our review sample to a few car racers to get their opinion.
• Tamiya TT01E
The TT01 has evolved with the E model as Tamiya update one of their favourite on-road chassis that features revised parts and new items.
• HPI Wheely King 4×4 RTR
HPI packed lots of fun into the Wheely King but they have now added 4WD to the chassis. Our expert team handed the transmitter for the 4×4 RTR model over to an RC newbie for their evaluation of this entry-level monster truck.
• LRP Column
Jurgen reflects on LRP's first 1:8 nitro off-road European Championships with Hupo Hoenigl driving a full LRP package including chassis, engine, fuel and more.
• Darren Does the Double
After missing the first two rounds of the BRCA 1:10 off-road series, Darren Bloomfield returned in style at Talywain with two wins with his Losi cars.
• Xray Column
Summary of the summer…
• Integy Goes All Individual
Our team of testers put the INDI Digital-03 Balance Discharger on the bench to see what it offers the electric racer.
• Marc Finds Form
Tamiya driver Marc Rheinard looks to be hitting top form as he won the Euros in Spain, just a few months ahead of the World Championships.
• Tekin Tested
We try out the Tekin FX Pro brushed speed controller.
• TruggyPro Series
Looking back at the first national series for 1:8 nitro truggy racing in the UK.
• Ansmann Terrier
The Terrier comes in a range of formats including kit and RTR but it was the ARTR that we got our hands on for testing and it didn't take long for us to get the nitro powered truggy up and running as all that's required is a set of radio gear.
• Nathan and Elliott Step Up
West London hosted the penultimate final round of this year's restyled National Championship with two new winners gracing the top step of the WLRC podium.
• Losi Desert Truck RTR
The next release on the proven XXX-T platform continues Losi's drive to provide a truck for every track, price range and taste.
• Squared Handling
Following on from our review of the X Factory X-5 Squared in the September issue, we headed off to the race track to get some first-hand experience.
• XTM XT2 Track Edition
An OS engine and Pro-Line tyres may be two items that make the Track Edition stand out from the original XT2 we tested back in December 2006 but there is more to the new XTM buggy as we found out.