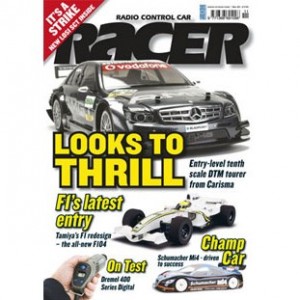 • Step Up Stinger EB-1
The EB-1 is a compact and efficient entry-level racer that comes in Ready–To-Run format. With a low price, we decided to see what the buggy has to offer…
• Carisma M40S
This tenth scale model replicates Mika Hakkinen's AMG Mercedes Benz DTM car and with its great looks, does it have the performance to match its looks and offer the ideal stepping-stone into racing? Phil McMahon takes up the challenge.
• Schumacher Mi4
The Mi4 with Chris Grainger on board has already won the 2009 National Championship but how does it compare to its predecessor in terms of design and performance?
• HPI Savage 5T
The new massive Savage truck is HPI's biggest ever in terms of size so with a huge 5.9cc engine combined with a threespeed transmission and a low overall weight, is capable of hauling the fifth-scaler to impressive speeds as our tester found out.
• Tamiya F104
Following on from a sneak peak in September, we got the chance to build the new Pro model and in keeping with the new theme, we adopted the paint scheme of championship leaders Brawn GP.
• Old School at Shrewsbury
Round four of the BRCA 1:8 Off- Road Nationals saw a return to a traditional grass track venue at Shrewsbury.
• Strike a Light
We get to take a look at the new Losi strike Short Course Truck…
• Go Fourth in Modified
Whilst Jonny Bowden was dominating the Pro Stock category, Chris Grainger showed his championship credentials with a win in Modified from fourth on the grid at the Cotswold touring car national.
• Electric Insight
After enjoying great success with their nitro buggy, LRP kindly let us look at their new electricpowered version the S8 BXe.
• Double Southport Success
Associated drivers Neil Cragg and Lee Martin shared the wins at Southport as the championship begins to shape up…
• Newbie Hits the Track
Fancy trying your hand at racing? Read Karl Barker's first-hand experience of his inaugural race outing with his Losi Muggy.
• Rotary Club
We take a look at the Dremel 400 Series Digital package and see why the product range is so popular in the pits and home workshops…
• Nitro Testing
Following up from the review, we took the Xray NT1 2009-spec to the Cotswold track to complete our test and put the nitro tourer through its paces…
• New at The Euros
LRP went to the European Championships with new parts for their S8 BX Team chassis, tweaks to the ZR.21X engine and a brand new tyre. Find out how they got on in this month's column.
• Xray Column
The T3 is on its way as Juraj teases you with info and pictures.