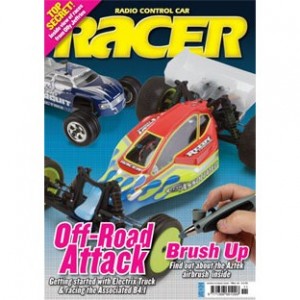 • Mid-Range Brush Up
Adam Smith puts Aztek's AZ4709 set through its paces to see how the package stumps up against the competition.
• RC for the Masses
Mark Stiles travelled to the Moto Arena facility at Silverstone to find out the truth behind the UK's newest and most intriguing RC facility…
• Field of Dreams
Another victory for Losi's Darren Bloomfield as he dominates the 1:8 off-road National at Clanfield winning from pole.
• Defending Champion is Back
Two more different winners as the fifth and sixth rounds of the BRCA 1:8 On-Road Championship as the series visits Adur and Mendip.
• HPI's 500
The Reactor 500 is HPI's take on the universal charger and with a range of functions and charge capabilities, we find out if this unit can offer the user everything they need in one box.
• LRP Column
Jurgen Lautenbach reports in after a busy month for LRP as they took in the World Championships in Germany, and also supported their football team in South Africa at the World Cup.
• Thai Déjà Vu
After their success two years ago in Thailand, Naoto Matsukura and Marc Rheinard successfully defended their World title, this time in Germany in the 1:12 and touring car classes respectively.
• Electrix Circuit RTR
The Electrix brand is a new name to the world of RC and they're aiming for their first release to be a chart-topping success. At under £100, we find out if the new entry-level stadium truck has got what it takes.
• HPI Pulse 4.6 RTR
The Pulse is HPI's new entry-level nitro buggy and comes in RTR format complete with a powerful 4.6 sized engine. Adopting design cues from the World Championship-winning D8 from sister company Hot Bodies, HPI's newest addition has been developed from successful genes.
• Losi 8ight 2.0EU
With the original and 2.0 models being focussed around working on the dirt tracks of the US, the 2.0EU model addresses the demands of the UK and Europe to offer a dedicated chassis package for high grip.
• Tamiya M05 Alfa MiTo
Tamiya had us seeing red with this latest mini sized kit. Our scale RC fan built up the kit and added a few upgrades along the way as we aimed to see how we could improve the performance of the cute little chassis.
• Associated B4.1 FT
The latest 2WD buggy from Associated may look very similar to the older model, but on closer inspection, their latest off-road competition buggy has had a thorough overhaul and with key updates too.
• LRP S8 BXe and TXe RTR
Two from the LRP stable this month as their new eighth scale RTR off-roaders are examined up close. Using the S8 as a proven platform, the new BXe buggy and TXe truggy feature the latest brushless motor and speed controller packages in a ready-to-run format.