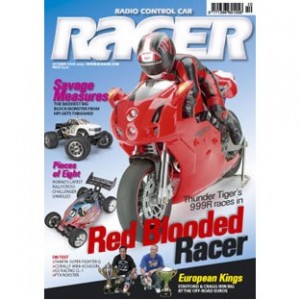 • North and South – All the action from the latest rounds of the BRCA Touring Car Championships at Snetterton and Halifax.
• A New Breed – We give you an advanced look at the new Hyper 8 from HoBao.
• Nitro Masters – Racer reports on the annual LRP Nitro Touring Car Masters from Luxembourg.
• Bury the Opposition – Neil Cargg wraps up both championships at the BRCA National series for 1:10 off-road at Bury Metro.
• British Pride – The British contingent did rather well at the EFRA 1:10 Off-Road European Championships and Racer was there to capture it all.
• Power Up – We test LRP's new Competition Power Supply.
• Intense Savagery – The ultimate incarnation of the HPI Savage, the 4.6 gets put to the test.
• The Storm Chaser – Racer checks out the successor to GS Racing's Storm buggy, the CL-1.
• Duke It Out – Two-wheeled nitro fun with Thunder Tiger's Ducati 999R.
• Monster of Rock – Small scale fun from FTX with their mini monster, the Roxster RTR.
• Starter Pack- We thrash Tamiya's latest entry-level off-road buggy, the Super Fighter G.
• Pint-Sized Sharp Shooter –Corally go touring on a smaller scale with the Mini Assassin.