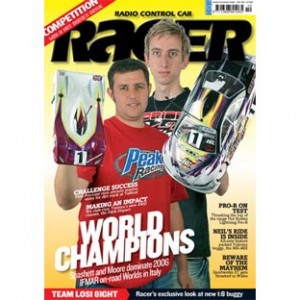 • 8ight Exclusive
Inside Team Losi's spanking new rallycross racer.
• BTCC at Bedworth
Front row starting positions ensured victories at the latest Schumacher meeting.
• Telemetry on Test
We take a look at the telemetry package from Spektrum.
• Up for the Challenge
Pro-Line's inaugural Dirt Challenge was a major success.
• Winners Maintain Streak
Marcus Askell and Rob Chaldecott continue winning runs at Carlisle.
• Spashett's Hat Trick
Corally's David Spashett took his third World title in 1:12 in Italy.
• Moore Good News
Andy Moore took on the best in the world and not only TQ, but also won the IFMAR Touring Car title!
• Rich Pickings at Southport
Losi racer Richard Taylor dominated the Southport round of the BRCA National series.
• Bikes at Brookland
The first-ever World Champs for bikes was held in the UK and what a meeting it was!
• Yokomo MR-4BX
With a brand new design aimed solely at off-road, we check out Yokomo's new 4WD buggy.
• Tamiya Dark Impact
Perfect for the club driver, our Tamiya expert takes the Dark Impact out for a night out at a local club.
• Sportwerks Mayhem ST
It may be a new brand for many but the Sportwerks range is getting rave reviews. But what do we think?
• Hot Bodies Lightning Pro-R
We test the top of the range Lightning truggy in the form of the Pro-R with all of its alloy and carbon fibre.