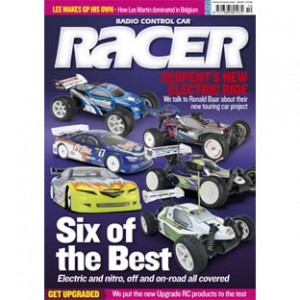 • Get there FASST
We test Futaba's new mid-range 2.4GHz system in the form of the 3GR stick radio.
• Bling or not to Bling
How aftermarket hop-ups can make you slower.
• Keeping up with the Jones
Dewi Jones showed the rest of the 19-turn field the way home at the latest BRCA National.
• Serpent's Tenth Tourer
Named the S400, we take an inside look at Serpent's new 1:10 scale electric touring car.
• Shakedown
We hit the track in part three of our new diary series.
• Getting Wet at Snett
Rain forced an early finish for the Schumacher BTCC at
Snetterton.
• Olly Stops the Momentum
After Chris Grainger had dominated the previous rounds, Olly Jefferies took a deserved Snetterton win in modified.
• Want an Upgrade?
What can Upgrade RC has to offer.
• Buggy Nats
Darren Bloomfield and Lee Martin took the 1:10 wins at
Oswestry.
• Kamp-ing in Belgium
Lee Martin dominates the annual 1:10 off-road GP at
Kampenhout.
• Ansmann Smacker RTR
We test this 1:10 off-road buggy that takes its looks from its nitro big brother.
• Sportwerks Recoil RTR
A new scale of touring car hits our pages from Sportwerks in 1:14.
• HoBao Hyper 8 ST RTR
If you are looking for a race ready trugg, then the ST RTR from HoBao could be the fast track you are after.
• Xray M18 Pro
Is this the ultimate electric micro racer? New parts and features grace the Pro spec 1:18 chassis.
• Tamiya Mad Spirit
Take to rough stuff, Tamiya-style with the new nitro powered Mad Spirit buggy.
• Mugen Seiki MBX-5R
After coming so close to the win at the Worlds in 2006, Racer takes a look at what the latest evolution of the MBX-5 has to offer.