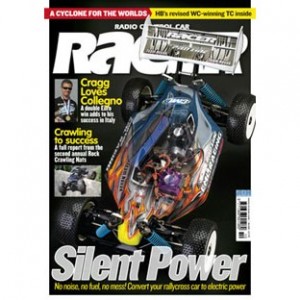 • FG Baja Buggy RTR
Big and fast! These are two features of FG's Baja Buggy that jump out at you before you have even started it up. Powered by a Zenoah 26cc engine, the RTR version of the model requires limited time and expense before use as we find out what you can expect from the German manufacturer.
• Axial AX10 Rock Racer/Rock Crawler
As the rock crawling market gets bigger and more known, Axial's latest model offers you a choice of set-up to suit your demands. Tom Stacey checks out the new Rock Racer/Rock Crawler in RTR format.
• GV Hunter RTR
If you want to get into rallycross, then the GV Hunter could be the buggy for you. All packaged up in RTR format, this entry-level buggy has a good specification for the price and won't leave you disappointed.
• Losi Raminator RTR
Manufactured specifically for the US market, Ade Pitman finds out how the Dodge inspired Losi Raminator copes with our domestic demands.
• Hot Bodies Cyclone
We take a look at the changes that Hot Bodies have incorporated into the latest evolution of the Cyclone touring car that they will be using at this year's World Championships.
• Sneak Preview
We take a first look at Losi's new Mini-Rock Crawler.
• Renaud is Rallycross Euro Star
Adrian Svensson reports on the 2008 European Championships from Crete.
• Come Fly With Me
Racer takes to the skies with some airborne action courtesy of ParkZone's Ember RTF.
• Cragg Doubles Up
Two wins from Neil Cragg in Collegno and we bring you all the news and gossip.
• Racer Goes Crawling
Our team heads up to Bracken Rocks in Derbyshire for the second UK Crawler Nationals.
• Lee Takes All
Lee Taylor and Lee Martin shared the truggy and buggy class wins at the annual GRP Challenge.
• Euros Preparation
Juraj Hudy talks us through his preparations for the TC European Championships in Spain.
• Electric-Powered Eighth
Its eighth-scale but not as we know it! Racer converts their HoBao Hyper 8 into an electricpowered model using Novak's new package.
• Tamiya in Dutch Clean Sweep
TRF drivers dominate the meeting as the third round of
the Euro Touring Series visits Heemstede in the Netherlands.
• Mirage Drivers Get Much More
Olly Jefferies and Elliott Harper shared the major class wins at the Much More GP held at
Stonehaven.
• LRP Column
Its all about nitro engines and ancillaries in this month's
column from LRP's Jurgen Lautenbach.