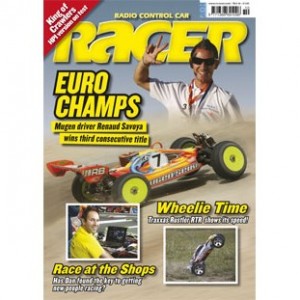 • Traxxas Rustler RTR
The Traxxas name reinvented itself after first off all making the headlines with a competition buggy that starred at the 1991 IFMAR World Championships. After enjoying success with a buggy and truck, a huge change of direction saw them release the first of their recreational models and the infamous T-Maxx. The rest they say is history and the Traxxas brand is steeped in RC history. One of their most popular electric vehicles has been the Rustler truck so we decided to sample this 1:10 stadium vehicle and just see what this has to offer.
• Savoya's Hat Trick of Success
Mugen driver Renaud Savoya made it three Euro titles in a row as he successfully defended his 1:8 off-road crown in Portugal. But he didn't have it all his own way during qualifying…
• Tamiya Star Wins Title
Lee Martin wrapped up the BRCA 1:10 Off-Road 4WD National Championship at the first opportunity by winning the latest round at Oswestry and his fourth consecutive victory.
• Two from Two for Shepherd
David Spashett makes a successful return to the 1:8 on-road class at Brooklands as Shepherd team mate Pete Hastings follows this up with a win at the round after.
• HPI Crawler King RTR
The original Wheely King axles took the crawling world by storm around two years ago. So what did HPI do? Well they took their fun wheelie-popping monster and converted it into a crawler and when you join the two names together, you get he Crawler King…
• Tamiya DF-03RA Datsun
The iconic Datsun 240Z returns to the RC world in both track focused TT-01E guise and the rally DF-03RA version. Based on the 240Z rally car campaigned by Edgar Herrmann, the Tamya is a stunning replica with a mixture of crisply moulded lexan, add-on plastic parts and two different decal sheets means that the 1:10 version looks remarkably like the real deal.
• Xray Column
At last Xray have won their first World title and how they have deserved it. Still thinking it's a dream, a very happy Juraj reports in.
• Having Fun Whilst Shopping
The first event of its type in the UK took place in Aberdeen where a full-on race meeting was held at the Union Square shopping centre to highlight the RC sport to the public.
• Darren Does It Again
Located near Gaydon in Warwickshire, the track at J12 gets its name from its proximity to the junction off the M40 motorway. Despite this track being very neutral with little running during the year, it was once again Darren Bloomfield who was in stunning form..
• LRP Column
RTRs have never been so good and LRP aim to make their latest model even better with news features and developments off the back of their race team's success.
• Step Up Striker MT-1 RTR
Aimed at the RC novice looking for something with a bit more kick, the new Striker MT-1 from Step Up offers the performance and fun of a monster truck at an affordable level. With its oversize wheels and tyres and aggressive body shell, the MT-1 is all about having monster loads of fun.
• Xray XB808 2010-spec
The popular Xray 1:8 buggy has evolved since its release as the Xray designers and team drivers have constantly honed and tweaked the components and geometry of the chassis to allow it to perform to the highest level. Based on the successful 808 platform, Xray claim that the new 2010-spec was updated to make the buggy, more durable to withstand long main events while improving its performance in all conditions. Jon Winter builds up the new car and looks at all the changes to see how the 808 has been improved.
• New for Twenty Ten
As James Hart secured his first-ever BRCA TC National win in Pro Stock, Elliott Harper was taking his first for Tamiya and Speed Passion as the championship headed to the Cotswolds track.