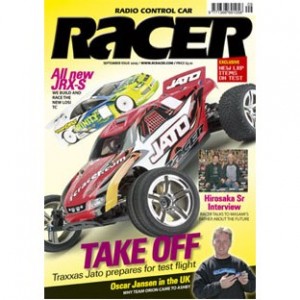 • TC Nats – We report on the Stock and Modified events held at Ashby and West London.
• David Takes Great Win – Nitro Model's David Crompton mastered the tricky conditions to win the BRCA Rallycross National at Great Yarmouth.
• Three on Test – We bolt on an HPI three-speed to out Savage and thrash it.
• Going Dutch – Racer catches up with Team Orion's Oscar Jansen for a chat…
• Cragg Wins All – It was another double victory for Neil Cragg for Associated and Yokomo at Southport.
• Power Up – We test LRP's new Competition Power Supply.
• It's Showtime – All the latest products from Shizuoka in Japan.
• LRP's Twenty Eight – We take a look at the new Spec 2 version of the LRP Z.28R monster truck engine.
• Box Clever – The new competition starter box from LRP.
• Team Losi Comp – Win a brand new JRX-S touring car courtesy of Helger Racing.
• Tamiya Series Kicks Off – The first round of the 2005 Eurocup took place at the Tamiya track at Snetterton and we were there…
• Talking Japanese – Racer talks with the Masaki Hirosaka to find out what Masami's dad is up to.
• RTR TC4 – The latest TC4 is Ready to Run and packed full of winning features.
• Prepare for Take Off – The new Traxxas Jato is a 2WD stadium racer with plenty of power, all packaged as only they can.
• HPI's On-Road Flyer – With an 18SS engine powering it, the new Nitro 3 from HPI is fast, very fast.
• The Lightning Gets Bigger – Evolution has seen the Lightning range grow with the new 1:8 scale GT RTR monster truck.
• Radical Racer – Racer puts the new Losi competition TC, the JRX-S to the test.