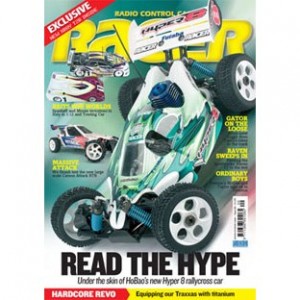 • Maximum at Mold – David Crompton secured maximum points when the BRCA Rallycross series visited Mold.
• Tamiya Desert Gator – Aimed at the newcomer wanting a more race-orientated machine, Tamiya can now offer the Desert Gator 2WD electric buggy.
• A Day at the Races, Dremel Style – Colin Spinner was quick to accept an invite to a day with Dremel at the Midland F1 HQ at Silverstone.
• Sportwerks Raven ST – This RTR electric truck is ready to go and offers bags of off-road capability.
• One Hard Revo – We bling up our Traxxas with a full set of Hardcore upgrades.
• HoBao Hyper 8 – This is the car that the HoBao drivers will be using when they aim for success at the 2006 IFMAR Rallycross World Championships in Jakarta.
• Xray Exclusive – A first look at the new T2R from Xray.
• Carson Attack – With radio installed and just some two-stoke fuel mix required, this large-scale off-roader grabs your attention by the bucket load.
• Preston's Home Boys – Danny McGee and Richard Taylor won at Tiverton doing the double for Team Losi and the town of Preston.
• Brits in the B – All the news from the European B Champs for 1:8 IC Circuit from Scott Nettleton.
• Grainger and Noble Take All – As the new-look National series for touring cars continued, there was a mixture of elation and frustration at Stafford.
• HPI Savage X – It is hard to believe but HPI Have made even more improvements with the latest Savage release.