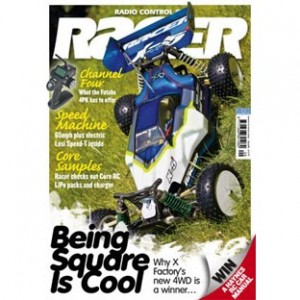 • Tamiya Plasma Edge
The Plasma Edge off-road buggy is based upon the popular DF-02 chassis, a design that has proven to be popular with beginners who are looking for a fun, easy-to-control machine to get started in the hobby. We take a look at the kit version that proceeds the RTR.
• X Factory X-5 Squared
There is no doubt that X Factory are making a big name for themselves in the 1:10 off-road competition scene and their cars are becoming more popular than ever. After taking an in-depth look at the X-6 2WD, this month we build up the new X-5 Squared kit with assistance from Ellis Stafford.
• Futaba Go Four Channel
We get an early look at Futaba's new 4PK dedicated 2.4GHz steerwheel radio.
• How To…
This month's guide follows on from our first part about mounting a body as we take a look at masking.
• Interview With a Legend
You may now know his name but his cars are RC icons. Colin Spinner talks to Tamiya designer, Fumito Taki.
• Winners on a Roll
After their success at Aldershot, Glenn Westwood and Chris Grainger were keen to build on their first round success as the TC Nationals headed to the wide-open track at Cotswolds.
• Juraj Reports In
Xray's lead designer delivers his monthly column
• To the Core
We take a look at the Core RC UDC20 charger and come of the other products in the range.
• Ellis Cleans Up
X Factory driver Ellis Stafford dominated the Oswestry round of the BRCA 1:10 Off-Road series and we were there to get all the news from the event.
• Ansmann Hogzilla RTR
When it comes to being proactive, Ansmann Racing from Nuremberg in Germany is one of the leaders within the industry. The newest addition to their ever-expanding range of nitro kits is the Hogzilla RTR monster truck.
• Associated 12R5
After many years of successful T-bar designs, Associated have broken the mould and made their first link car dubbed the 12R5. Scott Smart uses his knowledge of the Associated 1:12 chassis' to analyse what's new and find out how it performs on the track.
• Xray XB808
After the success of the XB8 platform, Xray have released the brand new XB808, design that was started from afresh. With notable features such as big bore shocks, narrow chassis, centrally mounted engine and angled drivetrain, we finally get to build and run the car that Xray will be hoping will deliver a world title later this year.
• Losi Speed-T RTR
Losi say their latest truck will reach speeds of over 65mph out of the box. Hold on, isn't that above the UK speed limit for trucks? We buckle up and head to some smooth tarmac to put the electric powered Speed-T to the test.
• Euro Touring Series
The ETS is Europe's premier touring car racing series and has attracted top drivers from all round the World to compete against each other. Here is our report from Denmark.