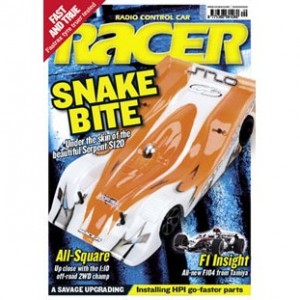 • A Savage Upgrade
Racer fits a range of hop-parts to out long-term test HPI Savage including a new reverse module, three-speed transmission, wheelie bar set, Land Rover body and more.
• Shaking Up F1
Formula One is front-page news at present and its perfect timing for Tamiya as they release the new F104 chassis. We take a look ahead of a full review.
• Defenders Fight Back
The first rounds of this year's 1:10 off-road National series were taken by newcomers to the top step but at round two, the 2008 champions shared the wins amongst them.
• Touring Cars Are Go
Our new TC correspondent Ed Clark reports back from round one of this year's National Championship hosted by the West London club.
• Its True
We put the Fastrax Tyre Truer in manual form to the test and consider the importance of having access to one and the benefits of ownership.
• Devon Delights
Tiverton on the outskirts of Devon would host round two of the 1:8 off-road championships and continue the sequence of events on Astroturf tracks. But would Elliott Boots take win number two?
• Serpent S120
One of the most anticipated cars in the class, we manage to secure a sample of the new Serpent 1:12 car and got in touch with Markus Mobers for an insight into the design.
• Losi L8ight Model
This unique chassis is a scale replica of the dirt oval racers in the US and we took the opportunity to see the tweaks and changes Losi have made to the design and set-up for the class.
• X Factory X-6 Squared
Some new subtle changes to the latest evolution of the X-6 has ensured that the chassis is now easier to build, stronger and better performing than the original model.
• Xray XB808 2009-Spec
With a large loyal band of followers who like the look and feel of the quality kits that they manufacture, Xray have updated their popular XB808 with the 2009-Spec version. Mark Stiles builds and test the latest model.
• HPI Trophy 3.5 RTR
The Trophy is HPI's first 1:8 off-road chassis and whilst it follows the proven formula of design, the manufacturer has packaged it up well to make the Trophy a chassis worth considering for entering the nitro-powered market with.
• Tamiya XB Pro Levant
Tamiya join the growing ranks of manufacturers offering ready-to-run models equipped with brushless power in their new 4WD stadium truck.