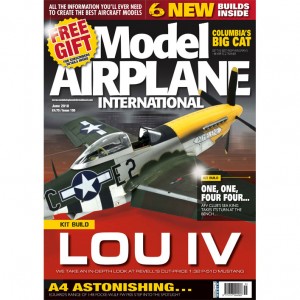 FEATURES
P12 ONE, ONE, FOUR, FOUR…
Welcome to a new, regular feature on this
increasingly popular scale. This month we take a
look at the AFV Club Sea King 'Old 66'.
P18 ONE, ONE, FOUR, FOUR NEWS
New releases for fans of this very popular scale.
P20 ROTTE LOVELY COLLECTION!
Jamie Haggo builds not one, but two of Eduard's
stunning 1:48 Fw190s!
P32 LOU IV
Mike Williams gets the best from Revell's brandnew
1:32 P-51D Mustang.
P48 IN DETAIL
Glenn Sands tells the story of the MiG-25 Foxbat in
service around the world.
P54 KFIR: COLUMBIA'S BIG CAT
Alan Kelley tackles the involved Wingman
1:48 kit…
P64 IT'S SHOWTIME!
We visit Cosford for the annual Shropshire Scale
Modellers Showcase
REVIEWS
P67 NEW RELEASES BOOKS
The latest decal releases assessed.
P70 NEW RELEASES KITS
What will you be building in the months to come?
P73 NEW RELEASES ACCESSORIES
What will you be using to dress up your kits in the
months to come?
P74 NEW RELEASES DECALS
What will you be decorating your kits with?
REGULARS
P04 – IN THIS ISSUE
P06 – NEWSLINE
P10 – COMMENT
P76 – EVENTS DIARY
P77 – CONTACTS DETAILS
P81 – NEXT ISSUE
P82 – FINAL THOUGHTS…