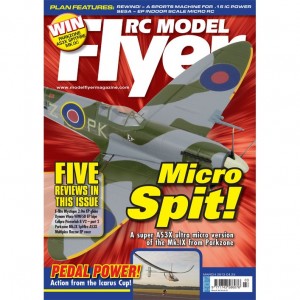 February 2013
FEATURES
18 FEATURED PLAN – REWIND
A sports aerobatic flier for .10 – .15 power.
36 FEATURE – BUYER BEWARE!
The first of a two–part article on buying secondhand, wisely…
40 SILENT WINGS – SCALE GLIDING
More from the pen of Chris Williams…
48 FREEBEE PLAN – MICRO RC SE5a
One for Indoor RC scale, from Peter Rake.
63 COMPETITION – WIN A SPITFIRE
A Parkzone Ultra Micro Spitfire to be won!
66 FEATURE – ICARUS CUP 2012
A report of three teams development in man-powered flight…
76 FEATURE – MAKE AN ENGINE – part 1
One man's love of making reproduction model diesels.
REVIEWS
12 F-FLITE MYSTIQUE
The 2.9m span ARTF sailplane/ep glider from this prolific manufacturer.
26 DYNAM WACO BIPE
We beat weather with this cracking scale EP foamie……
44 CELLPRO POWERLAB V2 – part 2
The second part of our in depth look at this superb charger.
60 E-FLITE ULTRA MICRO SPITFIRE
We fly this little gem of an EP fighter.
76 MULTIPLEX RAZZOR
The long awaited micro racer/fun machine…
REGULARS
4 NEWS – what's going on in the RC model world!
8 LANDING GEAR – New Products to excite you!
32 THE BLACK ART – Electric Flight Column
56 MILLER'S TALES – More Clubman Capers…
64 OUTLINE – Dave Bishop says…
72 JET JOCKEY 2013 – first of the second series for jet novices…
86 WORKSHOP – Gilmore to TravelAir – an unusual ARTF makeover, part 1.
90 DIARY DATES – what's on, where and when.
98 DEBRIEF – Epsom MFC tackle a audio problem with a difference!