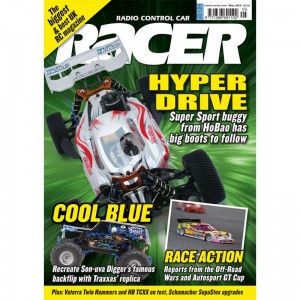 Winter National Champion -Â In his regular column, Olly Jefferies reflects on his first major win of the 2013 season at the EWS venue in Rayleigh, Essex.
Tamiya Goes Anime -Â Joe Brown builds up the Tamiya TA-06 with a Toyota GT86 body using the Japanese Anime as his inspiration for a unique look.
Nuremberg's Type 2 - Our second and final report from the Toy Fair as we wrap up a busy 2013 show with more new products and accessories that caught our eye.
Stox Upgrade -Â We take a standard Schumacher SupaStox and throw some sensible upgrade parts on to it like the optional ball diff and camber plate.
Making the XB4 - In part one of his report, Juraj Hudy offers us his experience of developing Xray's first 1:10 off-road buggy and the process that the team went through.
DHI Kick Starts 2013 - In this month's LRP column, Jurgen Lautenbach looks back at the season opening DHI Cup 2013 and the development of the LRP Spin Zero speed control/Vector K7 motor combo.
Off-Road Wars 2013 - Darren Bloomfield and Jörn Neumann took the wins in 2WD and 4WD respectively and Racer was there to report on the event, as well as scope out all the new items and prototype parts in use.
Gemini Goes X Rated - Sanwa's Gemini radio has been given a makeover with a 2.4GHz system that will make it a popular unit sitting in the middle of the stick radio spectrum price wise with high-end technological features.
HB TCXXÂ – So how have HB made their touring car platform better? Starting with a new narrower chassis, the weight distribution has been refined, a gear diff in the rear, updated spool and shocks just to name a few. Scott Smart explains in detail…
Tamiya DF-02 Aero Avante - The Aero Avante is Tamiya's first 1:10 off-road buggy based on one of their Mini 4WDs. These are hugely popular in Tamiya's homeland so they decided to take the 1:32 Mini 4WD Aero Avante and make a 1:10 version using the DF-02 chassis as a basis.
Vaterra Twin Hammers -Â Adding their name into the off-road rock crawling and scaling market is Vaterra with their Twin Hammers model. Not only does this look cool but with a number of unique features including the ability to select low and high speeds means the Twin Hammers is a flexible performance, whether traversing a rocky section or racing from one crawling section to another.
Atomik RC Brian Deegan Fiesta Rally - All action sports legend Brian Deegan once again puts his name to an RC product and this time it's the Fiesta Rally car in micro format. Aimed at the first time buyer, this RTR is all about the image and with Brian and his Metal Mulisha branding behind it, Atomik's 1:18 electric chassis is very attractive.
HoBao Hyper SS RTR - The range of 1:8 scale off-road chassis's from HoBao have an envious reputation for quality, performance and price. So how does the new SS model compare? With distinctive looks and a new orange coloured theme, the SS certainly looks different, whilst still retaining the appealing asking price.
Traxxas Son-uva Digger - The Son-uva Digger model is Traxxas's first in their new generation of monster trucks. With all the heritage of the full-size Grave Digger that wows the crowds at the Monster Jam, this new 1:10 scale comes fully assembled and ready to run. Son-uva Digger includes custom-moulded blue ladder bars and bumpers, Chevron tyres and new deep-dish wheels, all based round the tough and proven Stampede 2WD electric chassis.
TIC Racing Manic -Â Newcomers to the RC manufacturing scene are TIC Racing headed up by Russell Payne. Their first release is the Manic kit for 1:12 oval competition. Despite the new name, the team behind TIC Racing are hugely experienced, and this is reflected in the quality and design of the chassis that we put to the test.