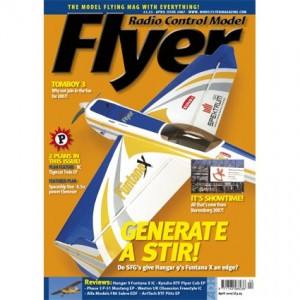 Showtime – Nuremberg 2007!
All that's new from the big European Model Show.
Plan Feature – Tigercat!
Build our profile EP twin, designed by Dave Ridgway.
Freebee – Spaceship One
A FF Ebenzer variant for 0.5cc.
Slope Slant – View from the Hill
Slope soaring gossip and goings on…
Tomboy Triumphant! – Competition season looms!
Why not join in the Tomboy 3 fun this year?
Funtana X 50
Hangar 9's aerobatic machine grows tip plates!
Readyset Cub
Kyosho's foam Piper comes ready to go – almost!
Dingable Dogfighter
Phase 3's P- 51D Mustang is made from EPP foam.
Obsession
Sleek and sophisticated pattern ship from Weston UK.
Brushless Trainer
Thunder Tiger's OBL conventional trainer.
Sabre Dance
Alfa Models super little foam EDF F86 Sabre.
Pleasantly Pitts
Art Tech's RTF Pitts bipe is a super RTF.
Workshop – Improving the scale look of sports scale.
Workshop – Flying people – a new FF fun flying competition.
Shipping & Delivery Charges On Back Issues
Free postage to all UK destinations
Shipping to European destinations is charged at £1.50 per issue
Shipping to Worldwide destinations outside Europe is charged at £2.70 per issue