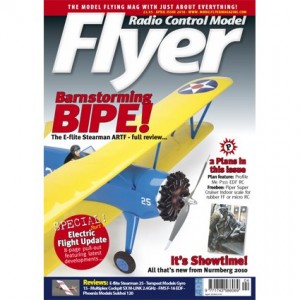 RALLY RETRO – Nuremberg 2010!All the new stuff showcased in Germany…
RALLY RETRO – Ebenezers!A rallying call for this years event in May…
FREEBEEMicro Piper Super Cruiser
PULL OUT – Electric Flight GuidePart 1 of a 16 page mini Electric Flight guide…
SCRATCHBUILD – Miles Messenger – part 3A classic plan brought up to date by Peter Shaw.
PLAN FEATURE – Messerschmitt Me P-111A profile foam EP RC version of a 'paper' jet…
STEARMAN PT-17 EE-Flite's little ARTF of this iconic USA trainer…
GYRO 15A .15-.25 powered combat IC ARTF from Tempest Models.
BLADEA 40 sized sports aerobat from Black Horse…
COCKPIT 2.4GHzMultiplex's new dedicated 2.4GHz radio examined.
F-16 EDFFamous Models (FMS) smaller foam EDF jet…
SUKHOI Su 31 120Phoenix Models large scale aerobat under the spotlight.
WORKSHOP – Lathe work for modellers – part 4A short series of modellers lathe projects.
Shipping & Delivery Charges On Back Issues
Free postage to all UK destinations
Shipping to European destinations is charged at £1.50 per issue
Shipping to Worldwide destinations outside Europe is charged at £2.70 per issue