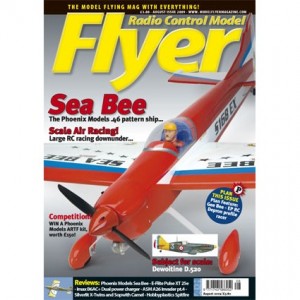 Competition! – Win an .46 ARTF pattern ship!
A Phoenix Models Sea Bee 46 to be won!
Design – Drag Coefficient
We try to explain this little understood variable…
Feature – Aerobatics for All part 2
We introduce the model we're using for the series…
Plan Feature
Gee Bee
Feature – Free Flight Scale!
A look at this discipline by one of the leading experts…
Slope Slant – The view from the hill!
More Ivinghoe soaring natterings…
Feature – Adelaide Air races!
Racing large Golden Era racers down under…
Sea Bee
The Phoenix Models ARTF aerobatic ship for 46 power.
Twin Piper Cub
We take two Seagull Models ARTF kits to make one unique aircraft!
Pulse XT25e
E-Flite's EP low wing sportster…
Invader – part 4
The ASM twin ARTF flies at last!
Flying Toys
Silverlit's latest micro fliers up the sophistication bar.
Profile Spitfire – Hobbyplastics Depron EO
RC version of the immortal fighter.
Workshop – Building by degrees – part 18.
Making cowls and canopies.
Subject for Scale – Dewoitine D520
Colour schemes of this French WW2 fighter.
Shipping & Delivery Charges On Back Issues
Free postage to all UK destinations
Shipping to European destinations is charged at £1.50 per issue
Shipping to Worldwide destinations outside Europe is charged at £2.70 per issue