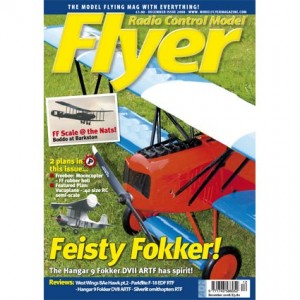 RALLY RETRO – BMFA Power Nats, part 2
All the Free Flight scale action…
SLOPE SLANT – The view from the hill
More slope soaring from the Beacon…
COMPETITION
Win FIVE Silverlit RC ornitopters!
RALLY RETRO – Indoor FF World Champs
All the Free Flight duration action…
FREEBEE PLAN – Moon Copter
A rubber powered helicopter…
BEST OF BRITISH – Deluxe Materials
A visit to the UK's top adhesive manufacturer.
RALLY RETRO – BMFA Control Line Nats – part 1
All the circle action from Barkston…
FEATURED PLAN – Lanier Vacuplane
An oddity that makes a great flier – for .40 power RC
FOKKER DVII – Hangar 9's superb
ARTF for 70 power RC
BAe HAWK EDF part 2
West Wing's built up RC EDF completed.
RC ORNITHOPTERS
The Silverlit Wingmaster range.
F/A 18 HORNET
The Top Gun Parkflite RTF EDF.
FOCKE WULF 190 EP
WW2 warbird from H&P Performance.
WORKSHOP – Building by degrees – part 10.
Covering the Eindekker.
Shipping & Delivery Charges On Back Issues
Free postage to all UK destinations
Shipping to European destinations is charged at £1.50 per issue
Shipping to Worldwide destinations outside Europe is charged at £2.70 per issue