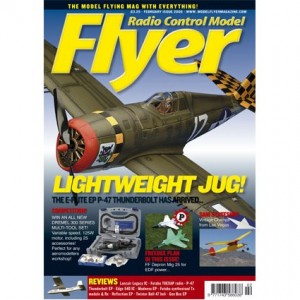 COMPETITION – Win a Dremel Multi-tool and accessories.
FREEBEE 1 – FF Mig 25 EDF A pseudo-jet FF model from Depron – for one of the small EDF units.
RALLY RETRO 1 – SAM in the USA! The SAM 35 USA 2005 champs were held near Las Vegas..
SLOPE SOARING – The view from the hill Soaring chatter from Ivinghoe Beacon
SCALE FEATURE – Aeronca Collegiate Spotlight on Phil Kent's latest Nats entry..
RALLY RETRO – Jack Morton Memorial A scale competition in honour of a much-respected modeller.
TEST PILOT – P47 THUNDERBOLT E-Flite's scale EP ARTF park flier…
TEST PILOT – TWISTER BELL 47 Awesome RC Product's little EP heli…
TEST PILOT – TWIN STAR II The revamped cult RC EP RTF model from Multiplex…
TEST PILOT – GEE BEE 3D Try the Air-Tech foam RTF 3D machine – it's wild…
TEST PILOT – ON THE EDGE The Top Gun Edge 540 ARTF for 120 IC power…
TEST PILOT – ON REFLECTION The Reflection, a new ab-ititio EP park flier from Ripmax
PRODUCT REVIEW – SIMPLICITY AND SOPHISTICATION The Futaba 6EXAP economy radio has a lot of features…
TEST PILOT – LANCAIR LEGACY A semi-scale ARTF version of the popular home-build for 40 IC.
TEST PILOT – IT'S MADNESS! The Madness II EP fun-fly is a full 3D machine – and quiet!
WORKSHOP – Synthesised radio The synthesised Tx module from Futaba
FF WORKSHOP – Doing it with a Dremel! Make it easy for yourself with this new hobby tool.
Shipping & Delivery Charges On Back Issues
Free postage to all UK destinations
Shipping to European destinations is charged at £1.50 per issue
Shipping to Worldwide destinations outside Europe is charged at £2.70 per issue