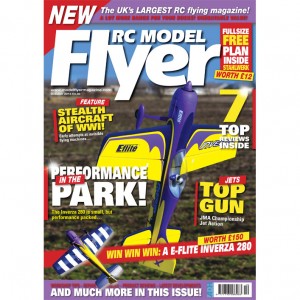 October 2013
FEATURES
30 BIG LIFT 2013 Bruce Corfe visits the annual comp for budding engineers…
42 COMPETITION Win an E-flite Inverza micro 3D BNF Basic
96 ARMCHAIR PILOT Colin Usher reviews a selection of aero books
98 VINTAGE CORNER The late Alex Imrie's Aeromodeller Column.
The very first ARTF?
110 OUTLINE Dave Bishop anecdotes
Memories of an electric crossing…
120 HELI ROUNDUP Neil Mead's rotary wing pot-pourri
Latest developments from the world of rotary wing machines…
130 SCALE GLIDING Chris Williams flies silently…
134 THE BLACK ART Graham Iredale on all things EP
138 THE INVISBLE GERMANS Stealth planes of WW1!
148 CLUBMAN Peter Miller on Sport Flying…
152 AROUND THE CLUBS Featured RC clubs up and down the country
162 DEBRIEF Technology meets Aeromodelling
PLANS
24 FEATURED PLAN Big Boy – enlarged Tomboy for 7cc motors
70 REVISITED PLAN Heinkel He 70 'Blitz' for .50 power.
74 PULL OUT PLAN Stahlwerk – German lightplane from the 1920's.
80 FREEBEE PLAN Another Knight – Indoor RC from Peter Rake.
REVIEWS
18 DURAFLY SE5a
38 E-FLITE Inverza
72 LRP H4 Micro Gravit
86 FLAIR MODELS Puppeteer – part 1
92 DURAFLY Zephyr V70
102 FLYZONE Eraze
124 SEAGULL MODELS Ultra Jet – part 2
SHOW REPORTS
48 LES FOUS VOLANTE – Fly-in in Brittany
62 TOP GUN 2013 – Gas Turbines over RAF Merryfield
112 PYLON RACING WORLD CHAMPS – Bank and Yank in Holland
116 RETRO AEROBATICS – BMFA Midland Rally
HOW TO…
44 LASER ALIGHMENT Setting up trim and sub trims
52 MULTICOPTERS 4Â  Graham Iredale starts a mini tutorial
80 SKIP THE LIGHT Micro Electrics with Peter Rake
106 AMPOWER Competitive electrics with Brian Austin
128 3D FLIGHT SCHOOL Knife-edge with Nathan Attridge
147 REPLACE Tx 2.4GHz AERIAL – when it's broken, fix it!
151 WOBBLY MOTOR? Fixing a foam ARTF's motor and mount
REGULARS
4 NEWS – what's going on in the RC model world!
12 LANDING GEAR – Products new to you?
78 DIARY DATES – what's on, where and when.
155 CONTACT US – and what's coming next month!