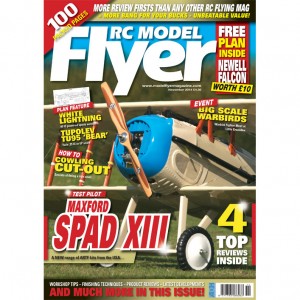 Nov 2014
REGULARS
6 NEWS
What's going on in the RC model world!
10 LANDING GEAR
Products new to you?
83 CONTACT US
And what's coming next month
93 DIARY DATES
What's on, where and when.
REVIEWS
20 TACTIC
Any Link 2 2.4GHz radio adaptor
24 MAXFORD USA
SPAD XIII WW1 fi ghter – part 1
60 DURAFLY
Das Ugly Stick
64 SANWA
Aquila 6 2.4GHz radio
22 CHEAP CLAMPS
Holding it together…
30 CUTTING COWLS
Keeping it neat
70 IC TO EP COVERSION
Fiesler Storch reworked
34 FEATURED PLAN
White Lightning sports IC
88 PLAN REVISITED
Tupolev 95 'Bear' Cold War IC jet
FEATURES
54 OUTLINE
Amusing nostalgic anecdotes from Dave Bishop
56 SCALE SOARING
Chris Williams on big gliders
66 ELECTRIC FLIGHT
Graham Iredale's 'Black Art'
74 VINTAGE CORNER
More from Alex Imrie's Aeromodeller archive
78 JET SCENE
Ian Titchell on 'Tailerons'
84 FRENCH CONNECTION
Airbus Antics!
98 DEBRIEF
Technology for tomorrow?
EVENTS
14 RC WORLD CHAMPIONSHIPS
Didn't we do well!
40 HOBBYKING FESTIVAL OF FLIGHT
Elmsett was packed out…
44 WARBIRD FIGHTER MEET
Little Gransden Airfield hosts…