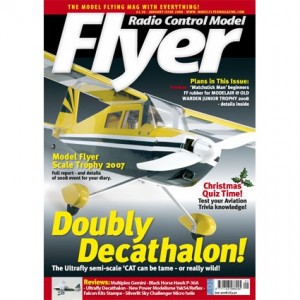 CHRISTMAS QUIZ 2007!
Aviation trivia questions to drive you nuts!
RALLY RETRO – Model Flyer Scale Trophy 2008
News about next years comp and a 2007 report!
NOSTALGIA – Halcyon days
More Vintage matters.
SLOPE SOARING – Ivinghoe Nostalgia Day
All the golden oldies grace the slopes.
FREEBEE 1 – Matchstick Man
A beginners FF rubber model for the 2008 Old Warden Junior Tropy event!
COMPETITION – Win a New Power
Modelisme 3D foamie kit!
RALLY RETRO
The last part of out Nats coverage looks at control line.
SPACE MODELLING – Spaced out in the Balkans!
A trip to Belgrade to see the best of model rocketry.
WORKSHOP – Make the most of your mixes
Part 6 – A look at Spektrum 2.4GHz gear the new modules.
WORKSHOP – Converting an IC twin to EP
An Me410 becomes silent, but deadly!
WORKSHOP – Bits and Pieces, part 1
A new series from Boddo, passing on modelling skill tips…
DECATHALON
Ultrafly's little EP ARTF takes to the air.
HAWK P-36A
An unusual WW2 fighter ARTF from Black Horse.
GEMINI
Multiplex's Elapor EP bipe is great!
YAK 54/REFLEX
A pair of NPM 3D foamie kits get the treatment.
STAMPE
Falcon Kits indoor RC foamie scale profile kit.
HELI COMBAT!
The Silverlit Sky Challenger duo fight it out!
Shipping & Delivery Charges On Back Issues
Free postage to all UK destinations
Shipping to European destinations is charged at £1.50 per issue
Shipping to Worldwide destinations outside Europe is charged at £2.70 per issue