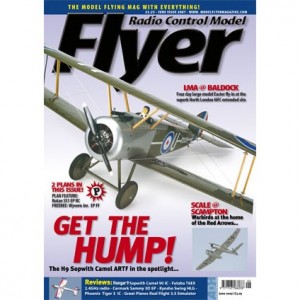 Rally Retro 1 – Scale @ Scampton
Warbirds meet at the home of the Red Arrows…
Slope Slant – View from the hill
Slope soaring gossip and goings on…
Freebee – Wyvern Junior
A FF vintage sports for EP…
Plan Feature – Rutan Spaceship One
An RC EP scale model of this futuristic airliner…
Rally Retro 2 – LMA @ Baldock
Large models visit the North London Club site.
Sopwith Camel
Hangar 9's ARTF WW1 scale bipe.
Futaba T6EX 2.4Mhz – It's here!
Peg-free flying from Futaba!
Sammy 3D
Cermark's little EP 3D machine.
Swing
Kyosho's little HLG RTF has a BIG performance.
Tiger 3 sports
A low wing IC trainer that surprises…
Real flight 3.5 sim
Arguably the best, has just got better!
Workshop
Repairing ARF retract mountings.
Shipping & Delivery Charges On Back Issues
Free postage to all UK destinations
Shipping to European destinations is charged at £1.50 per issue
Shipping to Worldwide destinations outside Europe is charged at £2.70 per issue