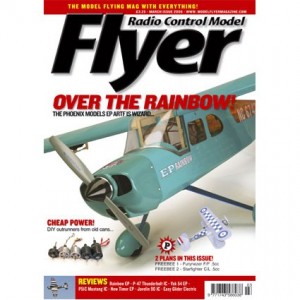 FREEBEE 1 – STARFIGHTER A futuristic mini control line trainer for small diesels
FREE FLIGHT CONTEST – CLASSIC GLIDER pt.1 Phil Ball resurrects a competitive glider from the past…
FREE FLIGHT CONTEST – COUPE EUROPA 2006 Winter action at Middle Wallop.
FREEBEE 2 – FURYNEZER Build this Ebenezer for the 2006 mass launch!
NOSTALGIA – HALYCON DAYS Get sorted out during the winter…
SCALE FEATURE – P-51B TUSKEGEE AIRMAN A brief history of the american-african pilots of WW2.
TEST PILOT – RAINBOW EP Phoenix Models' ARTF lightweight is a deceptively agile flier…
TEST PILOT – OVERFLOWING JUG! Hanar 9's 60 P-47 Thunderbolt ARTF…
TEST PILOT- INTO REVERSE We fit the Ikarus Yak 54 with a variable thrust prop/brushless combo…
TEST PILOT – NEW TIMER A vitage style ARTF that is definitely modern…
TEST PILOT – JAVELIN 90 Top Gun's popular aerobatic ARTF machine has grown…
TEST PILOT – WHITE WINGS The Multiplex Easy Glider EP ARTF put through its paces.
TEST PILOT – P-51B TUSKEGEE AIRMAN Air Loisirs semi-scale ARTF Mustang for .46 power
WORKSHOP – DIY OUTRUNNERS Use those old SP40 cans to make powerful outrunners.
Shipping & Delivery Charges On Back Issues
Free postage to all UK destinations
Shipping to European destinations is charged at £1.50 per issue
Shipping to Worldwide destinations outside Europe is charged at £2.70 per issue