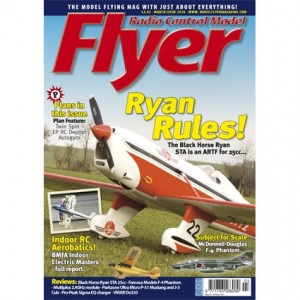 RALLY RETRO – ISA Nostalgia Day
Soaring memories from the hill.
RALLY RETRO – Dixielanders down under!
This popular FF design has a lot of support.
PLAN FEATURE – Twin Spin!
A Depron EP autogyro…
SCRATCHBUILD – Miles Messenger – part 2
A classic plan brought up to date by Peter Shaw.
HALCYON DAYS – Sparkie Comps for 2010
More Vintage matters…
RYAN STA 120
26cc powered scale ARTF from Black Horse.
F-4 PHANTOM
Famous Models EDF ARTF.
MULTIPLEX 2.4GHZ MODULE
We convert our Royal Evo 9 from 35Mhz to 2.4GHz…
ULTRA MICRO SCALE
The new Parkzone J-3 Cub and P-51D Mustang Bind N Fly.
SIGMA II EQ
Pro-Peak's dual power soured charger/ discharger/balancer.
DORNIER Do335 ARROW
The VMAR ARTF EP twin that's very different…
WORKSHOP 1 – Lathe work for modellers – part 3
A short series of modellers lathe projects.
WORKSHOP 2 – P-82 Twin Mustang – part 2
Two old ARTFs cut and pasted – well, almost!
SUBJECT FOR SCALE – MacDonnell Douglas F-4 Phantom
Exciting schemes to tie in with our review of the Famous Models ARTF.
Shipping & Delivery Charges On Back Issues
Free postage to all UK destinations
Shipping to European destinations is charged at £1.50 per issue
Shipping to Worldwide destinations outside Europe is charged at £2.70 per issue