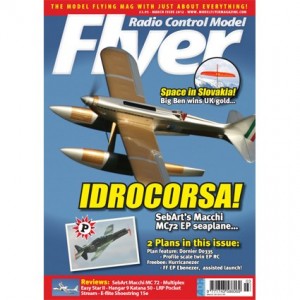 RALLY RETRO 1 – Barkston Warbirds!
We brave the Xmas cold for a great meeting!
RALLY RETRO 2 – Barton Blues!
Action from the popular CL meet…
PLAN FEATURE – Dornier Do335 Arrow
An unusual WW2 fighter twin for profile EP…
FEATURE – Bye Bye Blackbird
Some amazing stories about the SR71 Blackbird.
FREEBEE PLAN – Hurricatnezer!
A catapult launch Ebenezer EP variant!
RALLY RETRO 3 – ISA Nostalgia day
Old timers on the slope…
LJUBLJANA CUP – Sky High!
Rocket moments from Slovakia…
SEBART Macchi MC 72
EP magic, on floats!
MULTIPLEX Easy Star II
It just got better!
HANGAR 9 Kantan 50
A scale aerobat for 50 IC
LRP Pocket Stream
A mini size EP glider with pace!
E-FLITE Shoestring 15e
Pretty little scale EP pylon racer
OPTIMUM RADIO – part 5
Continuing our close look at three popular computer radios.
Shipping & Delivery Charges On Back Issues
Free postage to all UK destinations
Shipping to European destinations is charged at £1.50 per issue
Shipping to Worldwide destinations outside Europe is charged at £2.70 per issue