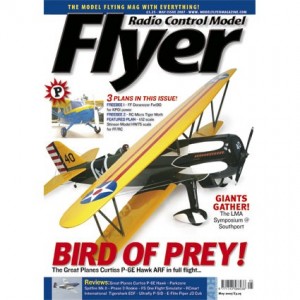 RALLY RETRO – LMA @ SOUTHPORTA look at the NEW large models…
EBENEZER ANTICS!One mans take on the Ebenezer craze.
COMPETITIONwin a super Graupner charger!
FREEBEE 1 – DoranezerA FF Fw190D Ebenzer variant for 0.5cc.
PLAN FEATURE – STINSON HW75A pretty little scale model for FF or micro RC.
TOMBOY TRIUMPHANT!Competition season looms!Why not join in the Tomboy 3 fun this year?
FREEBEE 2 – Tiny Tiggie!A micro RC indoor profile Tiger Moth Reviews
Curtiss P-6E HawkGreat Planes' classy BIG ARTF bipe fighter
FS ONEHangar 9's NEW Flight Simulator.
SUPER SPITParkzone's foam EP RTF fighter.
TIGERSHARKAn EDF 'jet' from J Perkins.
MUSTANG EPUltrafy's P-51D foamie has full house RC.
CLASSY CUBE-Flite Piper J-3 Cub is a cut above.
ROOKIEPhase 3's little RTF is great fun.
WORKSHOPThe CL Anduril wing is now eligible for vintage combat.
Shipping & Delivery Charges On Back Issues
Free postage to all UK destinations
Shipping to European destinations is charged at £1.50 per issue
Shipping to Worldwide destinations outside Europe is charged at £2.70 per issue