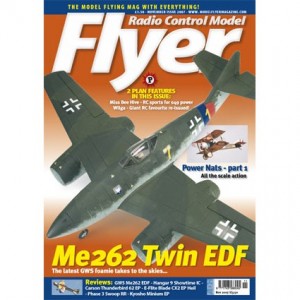 NOSTALGIA – Halcyon Days
More Vintage reports and anecdotes…
RALLY RETRO – BMFA Power Nats, part 1
All the scale action from Barkston.
TECHNOLOGY – The Power Puzzle
Getting the best from your IC engines…
FREEBEE – Miss Bee Hive
A traditional build RC sports model for 049 power
COMPETITION
Thunderbird is GO!
PLAN FEATURE – WILGA part 2
We complete our recommendations for correcting our popular Wilga plan…
RALLY RETRO – WESTON PARK 07
It was wet, but the show went on!
Me 262
The twin EDF foamie ARTF from GWS.
SHOWTIME
The 3D ARF from Hangar 9 for 90 power.
MICRON Rx
We assemble the upgraded DIY Rx kit.
THUNDERBIRD 62
an exciting RTF jet like EP from Carson.
BLADE CX2
The stunning EP heli from E-Flite.
SWOOP
We check out the fun foamie EP from Phase 3.
MINIUM CESSNA
Kyosho's mini RTF with 2.4Ghz radio.
WORKSHOP
Repairing a damaged ARTF part 3
WORKSHOP
Make the most of your mixes Part 5 – Getting into advanced mixes.
Shipping & Delivery Charges On Back Issues
Free postage to all UK destinations
Shipping to European destinations is charged at £1.50 per issue
Shipping to Worldwide destinations outside Europe is charged at £2.70 per issue