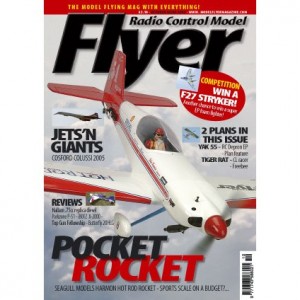 SLOPE SLANT – VIEW FROM THE HILL More slope soaring pot-pourri.
COMPETITION! Win a F-27 Stryker ARTF foam EP RC delta!
RALLY REPORT – 3D MASTERS The rain kept it short, but the flying was out of this world…
FREEBEE – TIGER RAT Try CL team racing with our all sheet machine for Oliver Tigers.
FEATURE PLAN – YAK 55 3D aerobatics with this Depron profile EP lightweight.
AIRCOMBAT – EUROCUP 2005 The numbers were down, but the combat was just as hot!
CLUB NEWS – ALL UP, LAST DOWN! Aylesbury have a formula for a successful club comp…
RALLY RETRO – GIANTS OF COSFORD This year's LMA premier show went to new levels…
TEST PILOT – HARMON'S ROCKET Seagull Models' semi-scale racer for .40 power.
TEST PILOT – TWO TOMBOYS We build a wet 'n dry Vic Smeed classic from Falcon Kits.
TEST PILOT – FEROCIOUS FRANKIE! The Parkzone P-51D RC EP foamie is a blast!
TEST PILOT – X-2000 iBOTZ futuristic FF EP foamie is a great way to get interested…
TEST PILOT – RING OF FELLOWSHIP! Top Gun's 3D ARTF machine
TEST PILOT – BUTTERFLY 20 A competitive HLG FF model…
WORKSHOP – AERIAL PHOTOGRAPHY Part 2 of 2 charting one man's approach…
WORKSHOP – MAKE FOAM WINGS Part 2, showing how to cut foam wings…
THE BLACK ART The Electric Flight column
WORKSHOP – DIY LETTERING How to add lettering to your model finish.
Shipping & Delivery Charges On Back Issues
Free postage to all UK destinations
Shipping to European destinations is charged at £1.50 per issue
Shipping to Worldwide destinations outside Europe is charged at £2.70 per issue