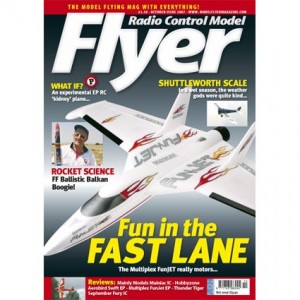 RALLY RETRO
Shuttleworth Scale FF, CL and RC masterpieces @ Old Warden…
SLOPE SLANT – The view from the Hill
More Ivinghoe slope soaring antics…
FREEBEE – What if?…
A kidney shaped EP RC model, whatever next!
WORKSHOP 1 – CNC for beginners Part 2
what it's about..
MOTOR MATTERS – The Dynamic Trinity
Power, torque – and the propeller – part2.
SPACE MODELLING – Balkans to Barcelona!
A cross European trip at rocket speed!
FEATURE – The Perfect Holiday?
Everything you need for a great holiday in France.
HOT FUN!
The Multiplex FunJet goes brushless
MAINIAC
Hairy fun with Mainly Model's little whiz – 25 size.
AEROBIRD SWIFT
An RFT that's full of surprises!
SEPTEMBER FURY
Thunder Tiger's ARTF Reno racer for 90 RC power.
WORKSHOP 2
Repairing a damaged ARTF part 2
WORKSHOP – Make the most of your mixes Part 4
Getting stuck into basic mixes.
WORKSHOP 3 – SNAP HAPPY!
It's easy to take aerial photos!
Shipping & Delivery Charges On Back Issues
Free postage to all UK destinations
Shipping to European destinations is charged at £1.50 per issue
Shipping to Worldwide destinations outside Europe is charged at £2.70 per issue