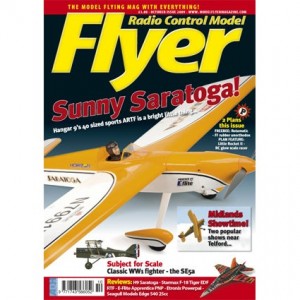 DESIGN – Wing sections exposed – part 2We lift the lid on aerofoil efficiency…
CONTROL LINE – 30 year wait.Paul Winter meets a CL legend.
FREEBEE PLAN – RotamaticA FF rubber unorthodox machine…
FF SCALE – Out and aboutBill Dennis reports on two scale events…
PLAN FEATURE – Little Rocket IIGerry Rathband's scale version of a little known racing homebuilt.
FLYING FIELD – Aerobatics for All part 4More aerobatic manoeuvres for you to practice…
RALLY RETRO – MIDLANDS MAGIC!Boddo reports from two popular shows, Weston Park and Cosford.
SARATOGAHangar 9's sports mono for .50 power and EP.
F-18 HORNETFoam EDF 'Tiger Meet' RTF from Starmax.
APPRENTICE PNPE-Flite's high wing trainer 'plug and play'.
ERATIX POWERPALa versatile dual power source charger/balancer.
EDGE 54030cc power ARTF from Seagull Models.
WORKSHOP – 'Memories'Build from our plans service.
SUBJECT FOR SCALE – SE5aClassic British fighter from WW1.
WORKSHOPSimple decals using clear label sheets.
Shipping & Delivery Charges On Back Issues
Free postage to all UK destinations
Shipping to European destinations is charged at £1.50 per issue
Shipping to Worldwide destinations outside Europe is charged at £2.70 per issue