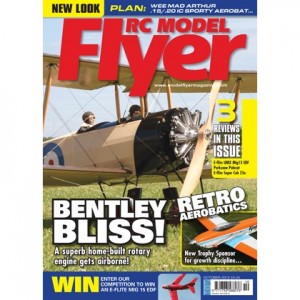 October 2012
FEATURES
14 COMPETITION – win an E-flite UMX Mig 15
18 LIGHT FAANTASTIC – A new column for small models.
22 MODEL MAGIC – A hand-built Bentley BR2 rotary engine in an Avro 504K
28 YOUR CALL – Readers letters with a Star Prize!
48 PLAN FEATURE – Wee Mad Arthur!
A .15/.20 sports aerobatic machine..
58 RETRO AEROBATICS – A new Trophy is introduced…
74 NIGHT FLYING – Taken to a new level in Germany…
82 SWANN MORTON – We celebrate this company's achievements…
REVIEWS
10 E-FLITE UMX Mig 15
This diminutive EDF blows up away!
44 E-FLITE Super Cub
This Platinum Series kit sets new levels…
80 PARKZONE Polecat – Indoor/outdoor aerobatic
REGULARS
6 NEWS – what's going on in the RC model world!
30 NEW PRODUCTS – seen these before?
32 THE BLACK ART – Electric Flight Column
38 MILLERS TALES – part 3
Another aeromodelling pot-pourri…
54 OUTLINE – Dave Bishop says…
63 WORKSHOP – Gyros in fixed wing airframes
66 JET SCENE – part 2
From the world of gas turbine flying…
70 FIRST PERSON VIEW – part 2
We start to look at what you need
76 SLOPE SOARING – The view from the hill
84 DIARY DATES – what's on, where and when.
86 JET JOCKEY – part 3
Our guide to getting started – A nervous first flight
98 DEBRIEF – Technology today, RC modelling tomorrow!