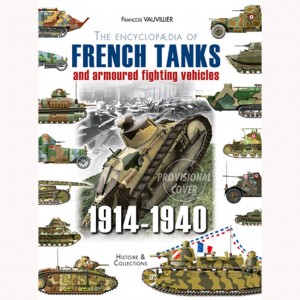 The Encyclopedia of French Tanks and Armoured Fighting Vehicles 1914-1940
• An indispensable work of reference for all tank fans, filled with numerous illustrations, photographs, and colour profiles.
France, alongside Great Britain, was the birthplace of a new weapon which was to revolutionise warfare: the tank. Preceding the arrival of the tank the turn of the twentieth-century saw the earliest development of armoured weapons with the invention of the armoured cars and armoured fighting vehicles. Covering the period of the Great War to the beginning of the Second World War this fully comprehensive encyclopedia includes: the hundred principal types of tanks and armoured cars and over 200 variants such as troop transports, bomb-disposal vehicles etc.. The concise text, precise genealogical tables, technical data on the most important machines, copious illustrations (including contemporary photographs and superb colour profiles) render this volume an indispensable work of reference for the tank fan.
About the Author
Francis Vauvillier, editor of war magazine Guerre, Blindés et Matériel, is the recognised expert on the French army.
230 x 310 mm 300 photos and 150 profiles 9782352503224