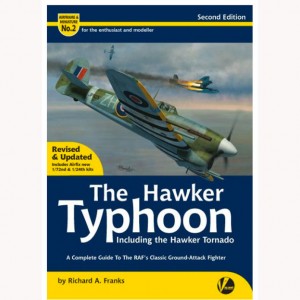 Airframe & Miniature No.2 Second Edition: The Hawker Typhoon
– A Complete Guide To The RAF's Classic Ground-Attack Fighter
by Richard A. Franks
ISBN 978-0-9930908-8-2
Updated and revised – now 176 pages!
This second book in our much acclaimed series has been out of print for over a year. With new Typhoon kits now available in 1/72nd and 1/24th scales and with a 1/24th scale 'Car Door' version coming from Airfix in 2016, it seemed right to make this book available once again.
In addition to the original contents it will contain:
Extra pages of walk-around images and technical diagrams
Extra 1/72nd full kit builds by Steve A. Evans of the Brengun and new-tool Airfix kits. These have been specially commissioned for the book.
A specially commissioned build of the 1/24th scale Airfix kit by Daniel Zamarbide.
An extra 48 pages of content in total
Specially commissioned new front cover artwork by Jerry Boucher
The Hawker Typhoon first edition content:
128 pages packed with vital information that no active aviation modeller should be without
40+ pages of technical information
20+ pages of walkaround images and technical diagrams
5+ pages of camouflage and markings
25+ pages of model builds and modelling information
200+ photographs including wartime images
Colour side views and four-views by Richard Caruana
3D isometric views of all variants by Jacek Jackiewicz
1/72, 1/48 and 1/32 scale full kit builds
A full set of fold-out 1/48 scale plans