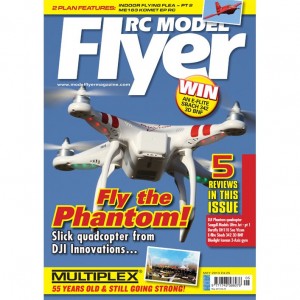 May 2013
FEATURES
20 FEATURE – Multiplex at 55!
A look back of the achievements to date of this prolific manufacturer…
30 SCALE FEATURE – De Havilland DH 110
A brief look at the history of the iconic full-size Sea Vixen…
42 FEATURE – Build Your own Flying Flea!
We look at one of the very first private aviation DIY projects.
46 FREEBEE PLAN – Flying Flea – part 2
The wings and the rest of this super indoor FF scale model.
53 RC CONVERSION – Convert the Flying Flea to RC!
Some ideas of how to make your Flea radio controlled…
58 PLAN FEATURE – Messerschnitt Me 163 Komet
A practical EP RC version of this little rocket-powered fighter from WW2…
90 FEATURE – BUYER BEWARE – part 3
The third of a four–part article on buying – and flying – secondhand…
REVIEWS
14 SEAGULL MODELS ULTRA JET – part 1
A delta pseudo jet for .60 size 2-stroke power…
24 DJI INNOVATIONS PHANTOM
A sophisticated RTF quadcopter you can take anywhere…
36 DYNAFLY DH110 SEA VIXEN
A super foam, super-detailled ARTF version of this carrier borne fighter.
54 E-FLITE SBACH 342 3D AS3X
The latest stability system equipped aerobat from Horizon Hobby.
68 BLUELIGHT ICEMAN ULTRA STABLE 3-AXIS GYRO
A very close look at this sophisticated piece of kit for fixed wing, single and multi rotor craft.
REGULARS
4 NEWS – what's going on in the RC model world!
10 LANDING GEAR – Products new to you?
40 DIARY DATES – what's on, where and when.
64 SLOPE SLANT – The view from the hill.
72 THE BLACK ART – Electric Flight Column
76 OUTLINE – Dave Bishop says…
78 MILLER'S TALES – More Clubman Capers…
82 JET JOCKEY – Continuing the beginner's series…
86 THE LIGHT FANTASTIC – More for small RC model lovers.
98 DEBRIEF – A fibreglass sheet clad Miles Speed Six!