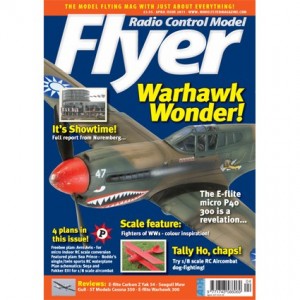 NUREMBERG 2011All the new stuff coming soon!
FEATURE – Model Magnificence!A close look at another great model.
FEATURED PLAN – Sea PrinceWe revisit a classic Boddo waterplane design for 90 power…
RALLY RETRO – Model Engineer ExhibitionWe visit this centre of excellence…
FREEBEE PLAN – Avro AvisWhy not convert this indoor scale model to micro RC for the new BMFA comp class?
SPACE MODELLING – Ljubljana CupAll the rocket action from Slovenia.
FEATURE – 1/8 Scale WW1 AircombatTry this new dogfighting competition fun!
PLAN SCHEMATICS – Se5a and EindekkerEIII 1/8 scale WW1 aircombat types for you to develop…
SCALE FEATURE – Fighters of WW1Some colour schemes to get the juices flowing…
E-FLITE Yak 54The Carbon Z EP foam aerobat.
SEAGULL Mew GullThe classic '30's racer for 90 power.
ST MODELS Cessna 350The Corvalis in EP RTF foam.
E-FLITE P-40 Warhawk 300A mini park flyer version of the WW2 fighter.
WORKSHOP – Airbrush weathering!We take a P-40 Warhawk and play dirty!
Shipping & Delivery Charges On Back Issues
Free postage to all UK destinations
Shipping to European destinations is charged at £1.50 per issue
Shipping to Worldwide destinations outside Europe is charged at £2.70 per issue