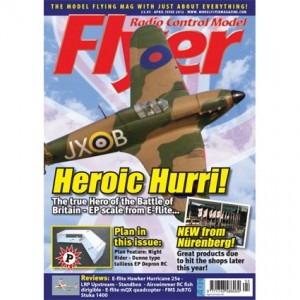 E-FLITE Hawker Hurricane Mk.1
EP foam with class!
LRP Upstream
a great beginners EP model.
AIRSWIMMERS Fish
a helium filled IR controlled blimp.
E-FLITE mQX quadcopter
join the four-blade revolution!
FMS Ju87G Stuka 1400
Classic WW2 divebomber in tank-busting guise!
OPTIMUM RADIO – part 6
We get into the nitty gritty of customising your radio set-up…
It's Showtime! Part 1
First part of what's new from Nuremberg…
Retro Aerobatics!
A new old form of informal meeting…
PLAN FEATURE
Night Rider
The London MEE
Alexandra Palace hosts a great exhibition
The Southern Model Airshow
We look forward to this year's show…
Space Modelling – A scale project
The Skua weather monitoring rocket.
Woodvale!
The show is ON for 2012!
Shipping & Delivery Charges On Back Issues
Free postage to all UK destinations
Shipping to European destinations is charged at £1.50 per issue
Shipping to Worldwide destinations outside Europe is charged at £2.70 per issue