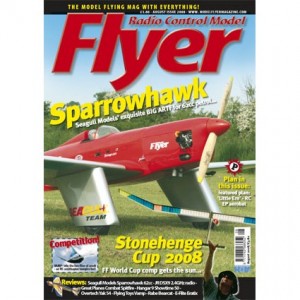 SLOPE SLANTMore mutterings from the Ivinghoe hill…
RALLY RETRO 1 – Fun Fly @ The NatsFancy yourself handy with a fun-fly?
Freebee – Little ErnEnlarge the plan and build this EP sports flyer…
RALLY RETRO 2 – Stonehenge Cup 2008Free Flight competition at the highest level…
RALLY RETRO – Woodvale is GO!This popular show gets an '08 makeover…
SPARROWHAWKThe BIG Miles ARTF from Seagull Models.
JR DSX9The new high spec 2.4GHz radio from JR.
COMBAT SPIT!The Great Planes entry level Aircombat ARTF.
SHOWTIME 50Hangar 9's aerobatic pattern ship for 50 power.
YAK 54 EPOverTech's new scale EP ARTF 3D machine.
VAMP!Fly a RC vampire bat!
ERATIXA sleek 3D EP machine that flies as good as it looks.
BEARCATThis Rabe control line kit is a REAL build – part 1
WORKSHOP – Building by degrees – part 6We start building an Eindekker!
Shipping & Delivery Charges On Back Issues
Free postage to all UK destinations
Shipping to European destinations is charged at £1.50 per issue
Shipping to Worldwide destinations outside Europe is charged at £2.70 per issue